Ellen Lavinthal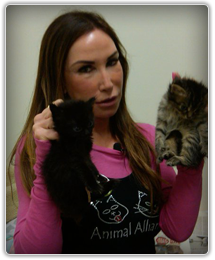 Member of the Board
Ellen Lavinthal serves The Bernheim Foundation in a volunteer capacity as a member of the Board of Directors. She is a lifelong animal activist. She is the President of Animal Alliance, a nonprofit animal welfare charity devoted to promoting animal welfare she founded two decades ago.
Ellen has joined forces with national animal advocacy groups to combat issues such as puppy mills, the fur trade, and elephants and primates in captivity. She is a member of the Board of Directors of the organization called Social Compassion in Legislation, which promotes laws aimed at reducing pet overpopulation.
Ellen is also the host of the show, "Animal Alliance," on www.Bigisgood.tv. The show focuses on important issues relating to animals.
Ellen is a Phi Beta Kappa graduate of the University of Southern California, and also obtained her Juris Doctorate from that institution. Ellen resides in Beverly Hills with her husband, Dennis and her daughter, Stella. She is also the guardian of several rescued animals.